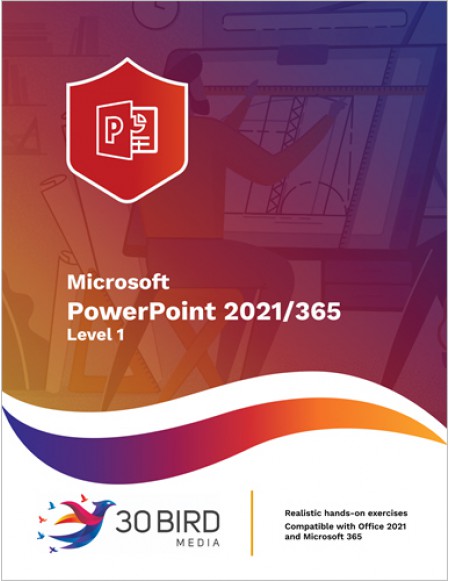 Chapter 1: Fundamentals
Module A: Exploring the PowerPoint environment

Chapter 2: Creating a presentation
Module A: Creating a presentation
Module B: Creating and modifying slide content

Chapter 3: Formatting
Module A: Working with slide masters and layouts
Module B: Formatting slides and text

Chapter 4: Working with shapes and images
Module A: Creating and formatting shapes
Module B: Working with images

Chapter 5: Working with charts and tables
Module A: Working with charts
Module B: Working with tables

Chapter 6: Customization
Module A: Slide transitions
Module B: Additional text options
Module C: Printing

Welcome to Microsoft PowerPoint 2021/365 Level 1. This course provides the basic concepts and skills that you need to start being productive with Microsoft PowerPoint: How to create, navigate, format, and customize PowerPoint presentations.
You will benefit most from this course if you want to accomplish basic workplace tasks in PowerPoint, or if you want to have a solid foundation for continuing on to master PowerPoint.
The course assumes you know how to use a computer, and that you're familiar with Microsoft Windows. It does not assume that you've used a different version of PowerPoint or any other presentation program before.
For more information and access to the PowerPoint files, please e-mail sales@30bird.com.
PowerPoint 2021/365 Level 1