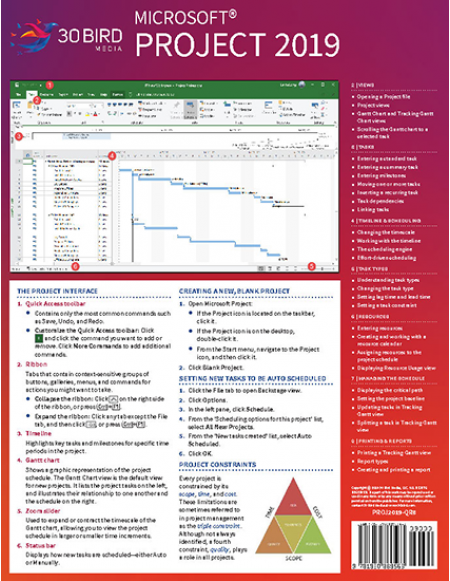 30 Bird's full-color, 8-page ShortTrack card provides the basic concepts and skills to start being productive with Project 2019. ShortTrack cards provide easy-to-follow instructions and are perfect for office and home use. The cards can be used as a job aid, desk reference, or to lead quick training sessions.

The Project 2019 ShortTrack card will show you how to:
Open, create, and save projects.
Project views.
Entering standard and summary tasks.
Entering milestones.
Inserting a recurring task.
Task dependencies.
Linking tasks.
Changing the timescale.
Working with the timeline.
Understanding task types.
Setting a task constraint.
Entering resources.
Assigning resources to the project schedule.
Displaying the critical path.
Setting the project baseline.
Updating tasks.
Splitting tasks.
Report types.
Creating and printing a report.

About the ShortTrack series
30 Bird's full-color, 8-page ShortTrack Training Cards are a new approach in training and support. No time for a 2-, 4-, or 8-hour class? No problem. These cards are designed to make it easy to lead students through the basics they need to get their jobs done in the shortest time possible. Or just hand them out and let your people use them for reference. The choice is yours with ShortTrack Training Cards.

Project 2019 ShortTrack Training Card