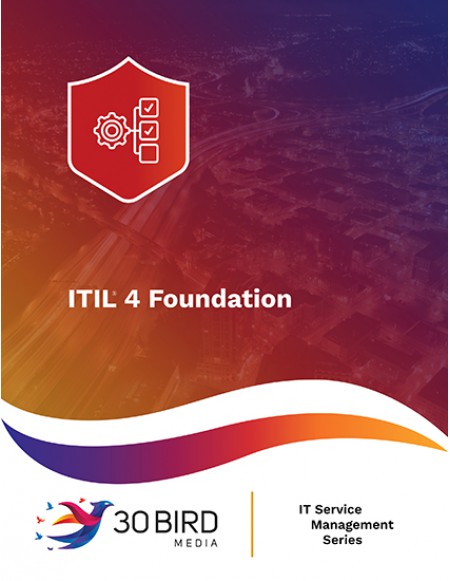 Chapter 1: Introduction and overview
Introduction to ITIL 4?
IT service management and ITIL
What is ITIL and how has it evolved?
The ITIL service value system (SVS)
The four dimensions model
Case study discussion
Chapter 1 Review Questions

Chapter 2: Key concepts of service management
Value and value creation
Organizations, service providers, service consumers, and other stakeholders
Products, services, and service relationships
More about value—outcome, cost, and risk
Case study discussion
Chapter 2 Review Questions

Chapter 3: Four dimensions of service management
Organizations and people
Information and technology
Partners and suppliers
Value streams and processes
Case study discussion
Chapter 3 Review Questions

Chapter 4: The ITIL service value system
Overview of the service value system
Opportunity, demand, and value
ITIL guiding principles
Governance
Service value chain
Continual improvement
Case study discussion
Chapter 4 Review Questions

Chapter 5: The service value chain
Introduction to the service value chain
The purposes, inputs, and outputs of value chain activities
Continual improvement
Case study discussion
Chapter 5 Review Questions

Chapter 6: ITIL management practices
Introduction to the practices
General management practices
Service management practices
Technical management practices
Case study discussion
Chapter 6 Review Questions



With more than 1,500,000 certified professionals worldwide, ITIL (IT Infrastructure Library) is the most widely established approach to IT Service Management. It provides a set of best practices for identifying, planning, delivering and supporting IT services to businesses and can be applied to nearly all organizations. ITIL 4 is fully compatible with ISO/IEC 20000, the first international service management standard for organizational certification and compliance.

The 30 Bird ITIL 4 - Foundation course provides IT leaders, management, and support staff with a comprehensive introduction to the core concepts of ITIL 4. It is designed to equip students with a practical understanding of ITIL 4 key concepts, principles, and practices that enable modern IT-enabled services in today's digital economy.
This course is based on the latest ITIL 4 best-practice guidance and will prepare the attendee for the ITIL 4 Foundation exam normally given at its conclusion. Candidates who wish to acquire knowledge in the theory and practices of the ITIL 4 management framework. This knowledge is also required if the candidate wishes to pursue any of the ITIL 4 certification schemes.

There are no specific prerequisites for this course. However, some basic knowledge of management theory can be helpful. After completing this course, you will know:
What ITIL is; how it fits into the service management framework; how it has evolved over the years; and about the ITIL service value system
The key concepts of ITIL service management, and how ITIL guiding principles can help an organization to adopt and adapt ITIL service management
The four dimensions of ITIL service management
The purpose and components of the ITIL service value system, the ITIL guiding principles, and governance
The activities of the service value chain, and how they interconnect, and the key concepts of continual improvement
The various ITIL practices and how they connect to value chain activities
NEW: Release 2.0 includes Sample Exam Papers in the book. Previously available only via download, the sample exams address all the topics covered in our ITIL 4 Foundation course. The questions are worded exactly as they appear in the official ITIL 4 Foundation exams. The Sample Exam Rationales (available via download) provide all the answers to the exam questions, as well as the rationales behind the correct answers. The sample exam questions, answers, and rationales are designed to best prepare you for taking the actual ITIL 4 Foundation exam once you've completed the course.

ITIL 4 - Foundation R2.0