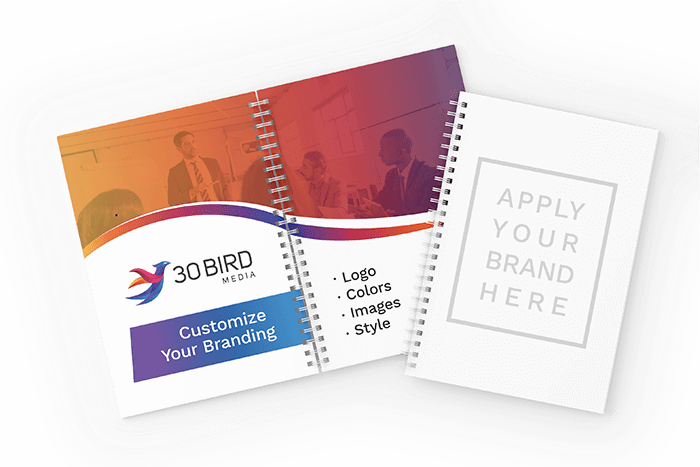 "I'd buy 30 Bird courseware if only it __________." How would you fill in that blank? Whatever it is, we can do that.
Some people want their courseware branded. Some want to omit something. Maybe you want to combine parts of several courses into one. All of these options—branding and what we call "mix-and-match" customization—are available for a modest, one-time setup charge.
"At Freewater Technologies, we think of 30Bird not just as a courseware vendor; we actually consider them a partner. That partnership goes both ways: they seek out our input and recommendations. Most importantly, the content of the courseware and the labs are exceptional."
"In today's world of the new norm, the workplace landscape changed very rapidly, having to adopt a new way to use tools and programs to connect and collaborate. Many colleagues did not have the expertise to use the features and functionalities of programs like Microsoft Teams and Zoom. "30 Bird Media created a clean and customized reference card for Teams and Zoom, highlighting all the tips and tricks on a single document, which we distributed to the entire organization. 30 Bird was extremely quick in creating, printing, and delivering the hard-copy materials. "I recommend 30 Bird because they solved a pain point for us while making the experience pain-free. Our sales organization are now equipped to collaborate in the new norm thanks to their reference products."
"Amazing textbooks and instructional materials (labs, PowerPoint slides, etc.). Very thorough, accurate, and easy-to-follow curricula. Prompt and continuous improvement of courseware. I cannot say enough about 30 Bird's superior products and stellar customer service. I use their materials in college courses and have highly recommended them to IT business and education partners."
"30 Bird never disappoints. Their customer care team is phenomenal! I always get the best pricing, and my orders arrive quickly."
Branding
You want to build your brand. We're all about helping you make that happen. Place a custom cover onto any course for a low, one-time fee, then order custom books at the regular price.
Plug-and-Play
Perhaps you need a little of this course, a little of that? Would you like to remove a topic? No problem. For a one-time fee, we'll make exactly the course you want, then charge you a fair price for the result. Custom expertise at value.
Custom Content
You want new content that's created just for you? Our Instructional Design Team are experts who will work with you every step of the way. Contact us for a quote. We'd love to help.
Your Courseware, Your Way
You want courseware your way—or your client's way. The students' way. We get that. Use our exceptional content as a starting point, then make it your own. Customization can be as simple as branding content with a custom cover, in your colors and featuring your logo.
Or, you can take content from multiple courses and rearrange it to suit your curriculum design. You can even have us help you create entirely new, custom content. Just ask. We want what you want, and we're here to help. You win, so we win.
Fill out the form that's provided. Include any questions or information about your courseware customization needs. A member of our Sales Team will promptly reach out to you. It will be our pleasure.
We're 30 Bird, and we'll help make your dreams a reality.
Get Started with Your Solution