A couple of weeks ago we launched our new corporate website, www.30Bird.com. Yeah, it's pretty cool. Slick new logo, color scheme, graphic elements, and all that jazz. We're very proud of it. But as Chief Operating Officer of 30 Bird Media, my primary focus is our online store, which I've managed for over two years now. Time to show a little love for our unsung hero: www.30bird.com/shop
From the very beginning, 30 Bird's mission has been to create a shopping experience that's the same as what you get with other online retailers. We believe that buying courseware shouldn't be all that different from buying staplers, yoga mats, fuzzy slippers, or cat toys.
For example, we've intentionally avoided creating multiple listings for the same course. Just because a course is available in a dozen different configurations doesn't mean you should have to sift through a dozen product listings. Instead, we have one. That's right, one. What makes this possible is a nifty tool called Build Your Solution, which goes a little something like this: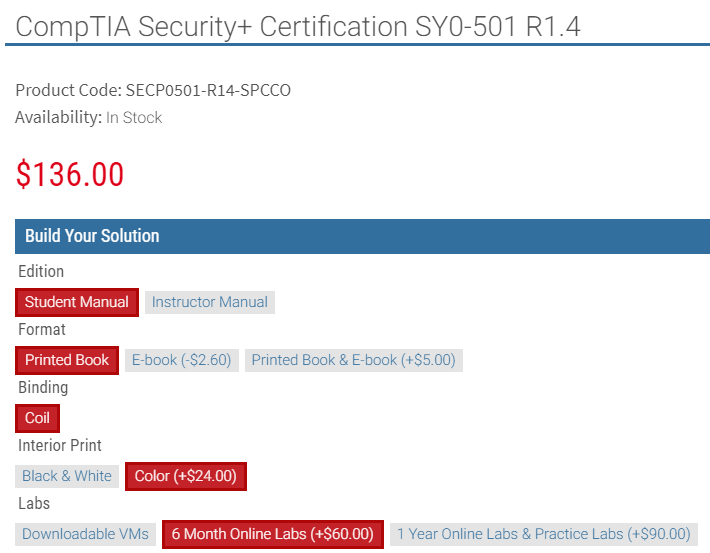 It's simple. When you land on one of our product pages, you'll see a series of selector buttons that correspond to all the available options for that product. Just click the options you want. As you do so, the price updates automatically and other options will appear (and disappear) based on your selections. And you never have to worry that you don't have the correct product code because that updates automatically, too. The process is intuitive, user friendly, and, well, downright human.
Another convenient feature of our site is your Order History. When any action is taken on your order, the system sends you an e-mail and all the information is saved to your Order History. This includes order confirmations, UPS tracking numbers, E-book instructions, lab access information, you name it. So when you need any of that stuff, you can simply access it through your Order History instead of sifting through hundreds (thousands?) of e-mails.
But wait, there's more…
At the bottom of the Checkout window, there's a text field where you can enter comments and questions. Rest assured that a real live person reads each and every entry, and one of us will get back to you via e-mail or phone ASAP.
Each one of our courses has associated downloads—student data, solutions, PowerPoint presentations, and other support files. There are two ways to access these:

Click the Downloads link at the top of your browser window. (This link is always available no matter where you are in the store.) You can then search our Downloads database by course title.
Go to the page for a specific course and click the Downloads tab (at the bottom).

If you regularly ship to multiple addresses, you'll want to take advantage of our Address Book feature (under "My Account"). All destinations in your Address Book are available in the Shipping Address drop-down list during checkout. This enables you to avoid entering addresses on the fly, speeds up the checkout process, and reduces the chance of address entry errors.
When it comes to your online shopping experience, the buck stops here, with me. So if you ever have any problems with the site, questions about how it all works, or suggestions for improvement, please e-mail me directly (josh@30bird.com) or call 888-330-9071 and ask for me by name.
Thanks for listening!
Josh Pincus
Chief Operating Officer
30 Bird Media