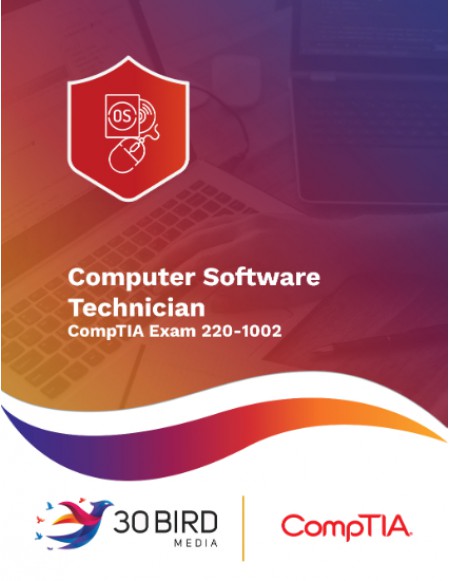 Introduction

Course setup
Software technician skills inventory
Chapter 1: Operating systems

Module A: Windows versions and features
Module B: Non-Windows operating systems
Module C: Operating system installation and upgrades
Module D: Applications and scripting
Chapter 2: Windows management

Module A: Operating system features and tools
Module B: Control Panel utilities
Module C: Command-line tools
Module D: Operating system troubleshooting
Chapter 3: Windows networking

Module A: Network shares
Module B: Network connections
Module C: Connection troubleshooting
Chapter 4: Security principles

Module A: Threats and vulnerabilities
Module B: Security controls
Chapter 5: Security technologies

Module A: Operating system security
Module B: Security hardware and software
Chapter 6: Securing devices and data

Module A: Workstation security
Module B: Mobile device security
Module C: Network security
Module D: Security troubleshooting
Chapter 7: Operational procedures

Module A: IT operations
Module B: Incident response
Module C: Backup and recovery
Chapter 8: Safety and professionalism

Module A: Safety
Module B: Environmental factors
Module C: Professionalism
Appendix A: Glossary
Alphabetical Index

Our Computer Software Technician courseware comes with lab exercises in the book. Complete classroom setup instructions are included in the book's Introduction.

For the operating system labs, students will need a computer with Windows 10 and the course lab files, which are available from the 30 Bird Store. There is an optional lab exercise that covers installing a virtual machine which requires a bit more setup.

Customers can also choose to purchase Online Labs for the course. For the software labs, students log in through a browser and complete the online exercises using virtual machines. The online labs greatly simplify setup.

30 Bird Media's instructor-led course, Computer Software Technician, provides the basic knowledge needed to install, configure, and support computer operating systems and software. This includes:
Installing, configuring and maintaining operating systems and software for end users
Understanding the basics of Windows network connections and resource sharing
Properly and safely diagnosing, resolving, and documenting common software issues
Understanding and applying basic cybersecurity principles
Performing IT operations and incident response procedures
Providing appropriate customer support
This course maps to the CompTIA A+ 220-1002 certification exam. Objective coverage is marked throughout the course.
This course assumes that you have basic computer knowledge.
Computer Software Technician (maps to CompTIA exam 220-1002) R1.1