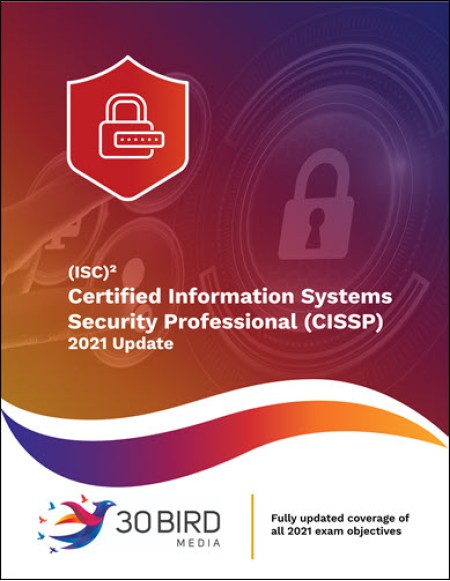 Chapter 1: Cybersecurity principles
Module A: Security concepts
Module B: Security governance

Chapter 2: Law and ethics
Module A: Legal principles
Module B: Cybersecurity regulations

Chapter 3: Risk management
Module A: Threats and vulnerabilities
Module B: Risk assessment
Module C: Risk management strategies

Chapter 4: Security policies
Module A: Security frameworks
Module B: Policy design
Module C: Controls and procedures
Module D: Training and coordination

Chapter 5: Information assets
Module A: Classification
Module B: Securing data

Chapter 6: Cryptographic techniques
Module A: Cryptographic principles
Module B: Ciphers and hashes
Module C: Public key infrastructure

Chapter 7: System security principles
Module A: System hardware vulnerabilities
Module B: Secure design processes
Module C: Security models

Chapter 8: Secure enterprise architecture
Module A: Trusted systems
Module B: Securing hosts
Module C: Infrastructure elements

Chapter 9: Specialized system security
Module A: Mobile device security
Module B: Virtual and cloud systems
Module C: Database design

Chapter 10: Secure system design
Module A: Architecture integration
Module B: Site and facility security

Chapter 11: Network fundamentals
Module A: Network models
Module B: Physical networking
Module C: Network infrastructure devices

Chapter 12: Network protocols
Module A: IP addressing
Module B: Network ports and applications
Module C: Cryptographic protocols

Chapter 13: Network technologies
Module A: Wireless networks
Module B: WAN technologies
Module C: Network convergence

Chapter 14: Network security architecture
Module A: Network vulnerabilities
Module B: Packet flow
Module C: Network access technologies

Chapter 15: Secure network configuration
Module A: Hardening networks
Module B: Securing communications

Chapter 16: Identity management
Module A: Access control vulnerabilities
Module B: Identity systems

Chapter 17: Access control technologies
Module A: Access control components
Module B: Authentication technologies

Chapter 18: Security assessment and testing
Module A: Security testing programs
Module B: Vulnerability assessments

Chapter 19: Security operations
Module A: Secure asset management
Module B: Vulnerability and patch management

Chapter 20: Scanning and monitoring
Module A: Malware
Module B: Threat detection and prevention
Module C: Network monitoring
Module D: Data analysis

Chapter 21: Incident response
Module A: Incident response planning
Module B: Incident response procedures
Module C: Investigation support

Chapter 22: Disaster planning
Module A: Resilience and business continuity
Module B: Fault tolerance and recovery

Chapter 23: Secure software development
Module A: Software vulnerabilities
Module B: Software development
Module C: Secure programs
Welcome to (ISC)² Certified Information Systems Security Professional (CISSP): 2021 Update. This course provides the knowledge needed to implement security solutions within an enterprise policy framework using a vendor-neutral format. This includes security and risk management programs, organizational policies and training, asset security, enterprise security architecture and engineering, network and communication security, identity and access management, security assessments and testing, operational security and secure software development. This course maps to the (ISC)² CISSP certification exam objectives, which were updated by (ISC)² in May 2021. You can download an objective map for the course from http://www.30bird.com.

You will benefit most from this course if you are an experienced security professional who intends to take an (ISC)² CISSP exam. Note that if you do not meet the work requirements of five years paid experience in two of the eight exam domains, you can not receive a CISSP certification; however, you may become an Associate of (ISC)² and continue working toward other requirements.

For more information and access to the PowerPoint files, please e-mail sales@30bird.com.

(ISC)² Certified Information Systems Security Professional (CISSP): 2021 Update